Who is Franklin Graham?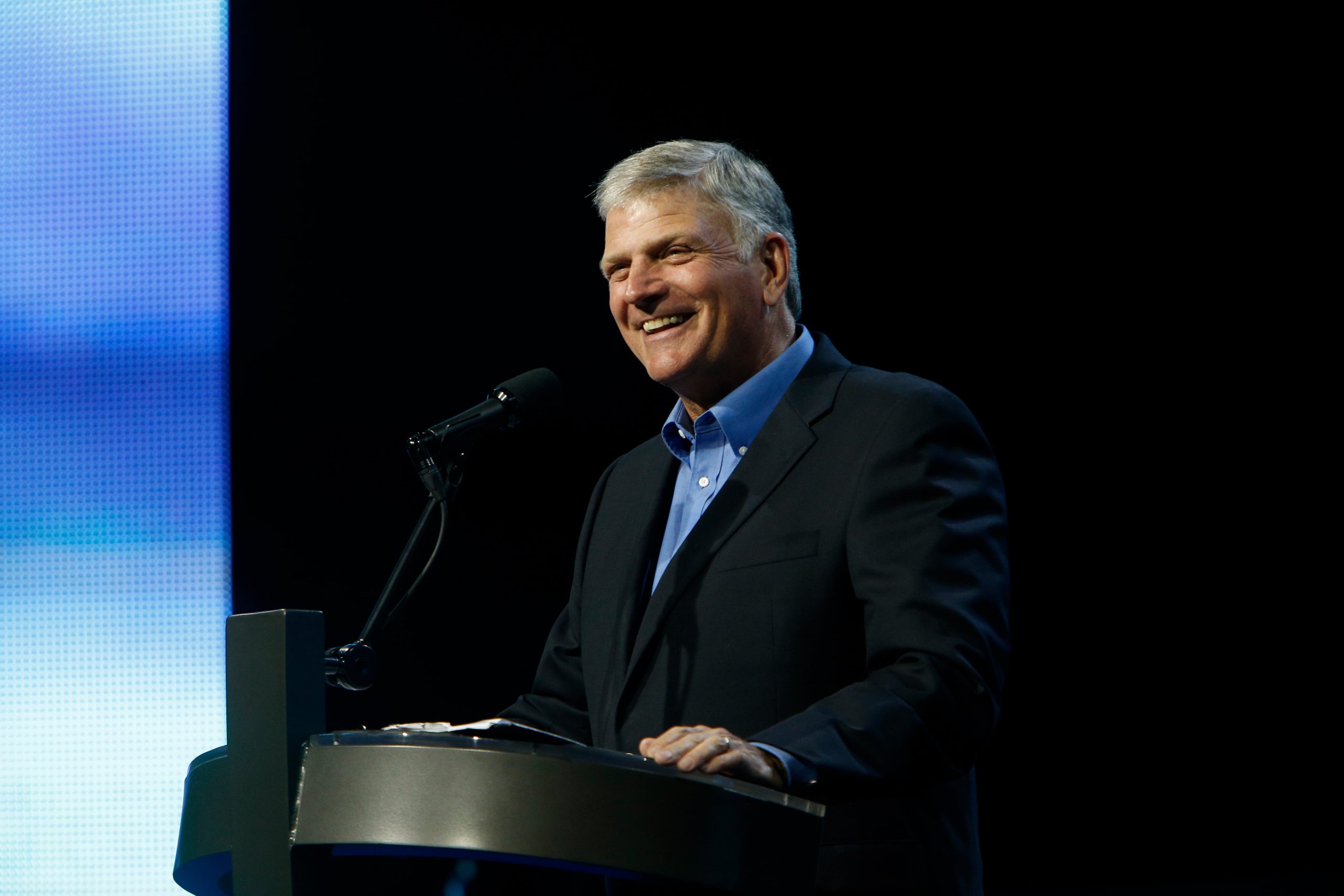 Franklin Graham has devoted his life to proclaiming the Gospel of Jesus Christ and meeting the needs of suffering people around the world. Franklin serves as president and CEO of the Billy Graham Evangelistic Association (BGEA). His first evangelistic event with the ministry was held in 1989, and since then, he has continued to share the Good News through hundreds of outreaches around the world.
Last year, Franklin preached the hope of Christ in Milan, as well as Rio de Janeiro, Brazil; Ulaanbaatar, Mongolia; three cities in New Zealand; six cities across the U.S.; and four cities in the United Kingdom. The event in Milan was historic—it was the first of its kind. Never before had hundreds of evangelical churches in Italy come together and worked alongside each other to share the Gospel. The outreach was held in the largest indoor arena in Milan and the crowd was so large, it broke the venue's attendance record. Thousands and thousands of people attended the event, and hundreds of people made decisions for Christ.
This year, Franklin is looking forward to proclaiming that same, simple Gospel message in Rome, where he is partnering with hundreds of local churches to tell people that God loves them and has a purpose for their lives. Franklin will also preach in Mexico City, Mexico; Seoul, Korea; London, England; and Essen, Germany, in 2023.
In addition to serving as president and CEO of the Billy Graham Evangelistic Association, Franklin also leads the international Christian relief and evangelism organization Samaritan's Purse, which helps meet the needs of refugees, victims of war and natural disasters, the sick, the poor, and the suffering in more than 100 countries around the world.
Under Franklin's leadership, Samaritan's Purse has helped more than 10 million people in Ukraine. The organization has distributed over 50 million kilos of food in Ukraine, and it has operated two Emergency Field Hospitals and six outpatient facilities across the war-torn country. Samaritan's Purse has also flown 850 tonnes of relief supplies to Ukraine on dozens of airlifts. The Billy Graham Evangelistic Association is also working in Ukraine, where the organization has trained more than 330 Ukrainian chaplains to share God's hope in crisis.
Samaritan's Purse has also provided life-saving care in Italy. When Lombardy was crippled by the coronavirus in March 2020, Samaritan's Purse was the first international organization to provide emergency medical relief in the epicenter of the deadly outbreak. Samaritan's Purse deployed an Emergency Field Hospital and a team of doctors and nurses to Cremona where they assisted Cremona Hospital for 60 days, caring for more than 280 suffering COVID-19 patients. Crisis-trained chaplains with the Billy Graham Evangelistic Association worked alongside those medical teams to comfort patients and their families and bring hope in the Name of Jesus Christ.